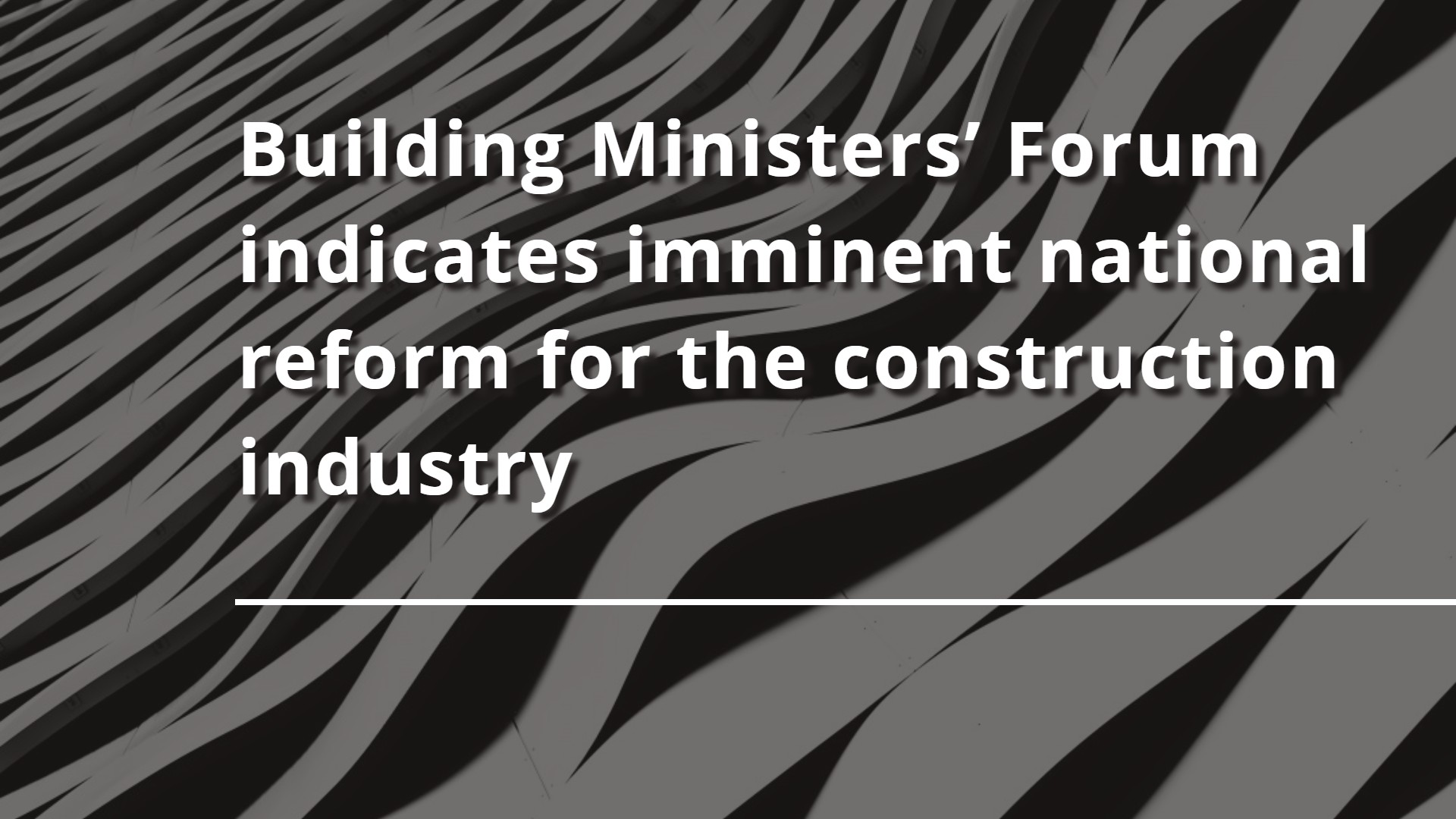 In the wake of the release of a series of reports, commissioned to evaluate safety, compliance, enforcement and security of payment concerns in the building and construction industry, the Building Ministers' Forum (BMF) recently held a meeting to discuss:
The Building Confidence Report made 24 recommendations aimed at facilitating the effective delivery of the National Construction Code (NCC). In consideration of these recommendations, the BMF directed the development of an implementation plan for reform for consideration at the BMF's next meeting, focusing on:
establishing controls to mitigate conflicts of interest for private building surveyors, as well as enhancing their supervisory powers and imposing on them mandatory reporting obligations;
nationally consistent registration of building practitioners; and
requiring that design documents are prepared by appropriate categories of registered practitioners and demonstrate that the proposed building complies with the NCC.
In light of the Murray Review, the BMF agreed to work collaboratively to improve consistency between security of payment regimes across Australia, meaning that the industry can expect further changes are imminent.
In addition, the BMF discussed:
the permanent labelling of Aluminium Composite Panel products, and agreed that implementing such practices is critical; and
concerns regarding professional indemnity insurance for building practitioners, particularly for building surveyors and certifiers, and agreed to develop an nationally consistent approach.
Minister for Small and Family Business, Workplace and Deregulation, Craig Laundy, said "effective compliance and enforcement systems in the building and construction industry are critical for Australians to have confidence in their built environment. The Building Confidence Report is our roadmap for reform."
"The meeting of the Building Ministers was productive and the agreement for an implementation plan is an important first step forward, however it's critical for states and territories to commit to genuinely working cooperatively to improve the lives of all Australians through a more harmonised and better enforced building industry," said Mr Laundy.
CDI Lawyers will keep you abreast of any legal developments within the building and construction industry as and when they are announced.
This publication does not deal with every important topic or change in law and is not intended to be relied upon as a substitute for legal or other advice that may be relevant to the reader's specific circumstances. If you have found this publication of interest and would like to know more or wish to obtain legal advice relevant to your circumstances please contact one of the named individuals listed.